Member
Mrs. Daniela Schifano
Classification
Landscape Stone – Sansui keijo seki
Distant mountain stone – Toyama ishi
Poetic name
'Gazan muhyo' 雅山霧氷
'Elegant mountain of frozen mist'
Origin
Japan (Setagawa nashiji ishi)
Measurements (cm)
L. 35 – D 12 – H 8,3
The steel gray color of this stone is associated with a cold period and the idea of "frozen fog", as it sounds shimmery and almost magical in some ways, suggested by the patina of the stone with the dots of the pear skin in small glittering reflections.
The daiza is signed "Riuseki", a japanese daiza maker active in Osaka in the 1970's.
The stand is in urushi lacquer. The exhibition is completed by a kakejiku with a solitary deer in the snow, painted by Kawabe Genyoshi, a Japanese painter born in Kyoto (1820-1886).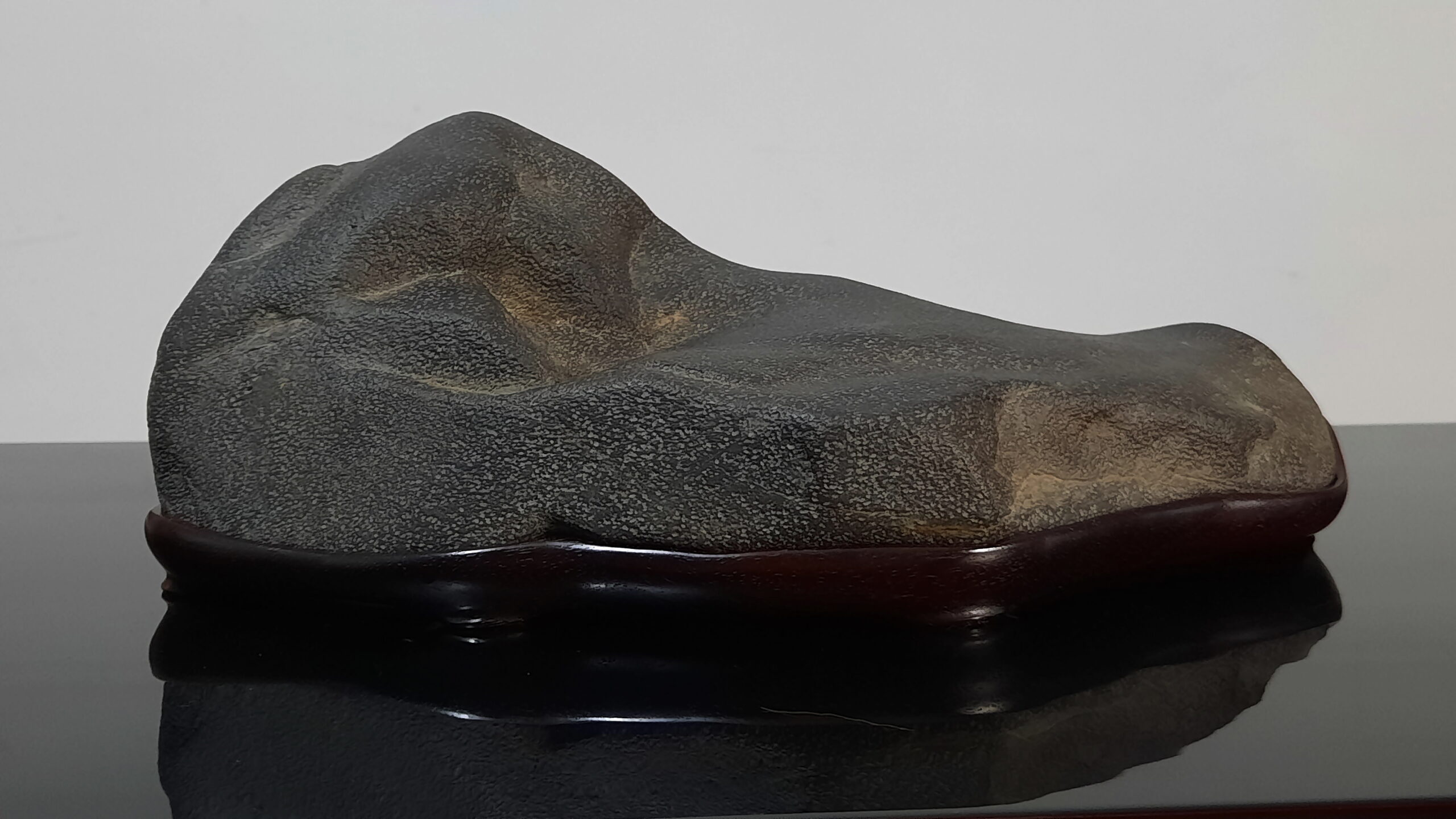 Socio
Daniela Schifano
Classificazione
Pietra Paesaggio – Sansui keijo seki
Montagna distante – Toyama ishi
Nome poetico
'Gazan muhyo' 雅山霧氷
'Montagna elegante di nebbia ghiacciata'
Luogo di origine
Giappone (Fiume Seta – Tessitura a buccia di pera)
Dimensioni (cm)
L. 35 – D 12 – H 8,3
Il colore grigio acciaio di questa pietra richiama alla mente un periodo freddo e l'idea di "nebbia ghiacciata", luccicante e quasi magica per certi versi, suggerita dalla superficie della pietra in cui i puntini della tessitura a buccia di pera sembrano tanti luccichii riflessi dalla fredda luce invernale.
Il daiza è firmato "Riuseki", un daiza maker giapponese attivo a Osaka negli anni '70.
Il supporto giapponese è in lacca urushi. Completa l'esposizione un kakejiku con un cervo solitario nella neve, dipinto da Kawabe Genyoshi, pittore giapponese nato a Kyoto (1820-1886).